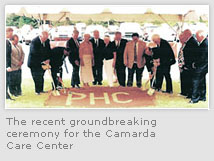 Groundbreaking held for Camarda Care Center
July 2006

With shovel to ground, the ceremonial first step for Putnam Hospital Center's new major building project was taken last month by members of the hospital's administration, board of directors and foundation board as well as area politicians and community members. At the same time, The Campaign for Tomorrow capital campaign to help fund the project was formally announced.

Designed to address the critical needs resulting from the area's explosive growth and to keep pace with anticipated healthcare changes, the hospital's new project includes the construction of a five-story patient building, renovation of existing space, and a significant increase in parking.

From start to finish, it is anticipated that it will take eighteen months to construct the Camarda Care Center - a five-story 113,000 square-foot patient tower that will house PHC's new cancer center including radiation therapy, enhanced cardiology services, hospital/community use conference center, and physician offices. In addition, semi-private rooms in the existing hospital will be converted into private patient rooms in the new building, freeing up 20,000 square feet for renovation to enhance the patient care environment, centralize services and expand clinical programs. The hospital also plans to create 300 additional parking spaces to accommodate the projected increase in the number of patients and visitors.

An estimated $34 million will be required to construct and equip the new building, renovate existing space and create additional parking, which PHC plans to fund through a combination of structured borrowing and fundraising. At the groundbreaking ceremony, the Putnam Hospital Center Foundation announced the formation of a major capital campaign - The Campaign for Tomorrow - and set a campaign goal of raising $15 million toward the project.

To date, nearly $9 million has been raised in the "quiet" phase of the capital campaign. With the campaign formally announced, members of the campaign committee will now be calling on the generosity of individuals and businesses in the community to help keep the hospital at the forefront of advanced healthcare services for the foreseeable future.