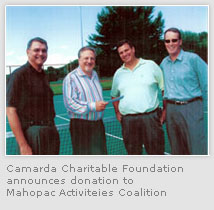 Developer Donates $100,000 to Mahopac athletes

August, 2006
When the Mahopac School District slashed its 2006-2007 budget earlier this month by eliminating $1 million in funding for all scholastic sports programs, the community met the problem head-on by forming the Mahopac Activities Coalition to help restore sports to the schools.
MAC got a big boost in its fundraising efforts late last week when the Camarda Charitable Foundation donated $100,000, providing a cash transfusion toward the $345,667 needed by September 1 to insure that the schools will have sports in September.
The donation represents nearly 30 percent of the needed down payment on sports.
"This is an extraordinary act of generosity," said David Furfaro, one of the organizers of the Mahopac Activities Coalition. "This donation is a tremendous jumpstart for our coalition and gives all of us hope that we will be able to raise the money that we need to save sports and extracurricular activities in Mahopac. We are grateful to Paul Camarda, who recognized our difficult situation and came to the rescue."
MAC was created by parents, teachers, sports boosters and the Mahopac Board of Education after the proposed school budget was rejected twice, forcing the board to institute a mandated contingency budget. The new budget called for cuts of more than $2 million, $1 million of which eliminated sports, clubs and drama programs.
Under the MAC plan students must pay $408 to participate on a sports team, in drama club or in band. Students participating in after-school clubs must pay $75.
Nick Alosco, a varsity hockey and baseball player at Mahopac entering his senior year, was busy playing in a baseball showcase tournament in Myrtle Beach, South Carolina with the Hudson Valley Bulls this week. He heard about the donation before leaving for the tournament.
"What Mr. Camarda is doing is so great, it's ridiculous how much money he's giving," Alosco said. "He really gets it, that kids need to have sports. I wish there were 10 more people like him. I personally want to thank him for helping us. We're extremely grateful."
The Camarda Charitable Foundation was established in June by Paul Camarda of Camarda Realty Investments, a real estate investment firm based in Carmel. The foundation's first grant was a $500,000 gift to Putnam Hospital Center's capital campaign to build a new building.
"We created the Camarda Charitable Foundation to help community groups just like the Mahopac Activities Coalition," Camarda said. "I believe that sports and extracurricular activities are a very important component of the educational experience and the Mahopac students to have these activities."
According to Mahopac Sports Association and MAC organizer John Malara, the community has been very cooperative despite the added cost. No other school district in the Westchester/Putnam schools has had its sports programs cut due to a contingency budget.
"We know that it can be difficult for families to pay for one or more children to play a sport, but we wanted to maintain the great programs we have here," Malara said.
Residents in the Hendrick Hudson school District also rejected the proposed 2006-2007 budget but despite a mandated contingency budget the board kept its sports programs intact except for two freshman and junior varsity teams.
"This is an early Christmas present for every student in Mahopac," Furfaro said. "We never expected to receive this level of donation from anyone. Hopefully, others will step forward to help out."